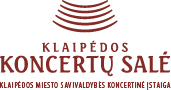 Contemporary Music Festival "Music of Changes"
September 14th – October 1st, 2015
On september 19th, the Klaipėda Concert Hall will open its new concert season with the 10th Music of Changes Festival. The coming season will bring yet another anniversary: our concert institution will mark its 10th anniversary on April 1st, 2015.
The 10th anniversary edition of the Music of Changes Festival will focus on the idea of a city, which often becomes a source of inspiration for its denizens and artists. The festival programme will comprise six concerts, full of lively commotion, throbbing beats and fresh harmonies, which will attempt to capture the aural and visual features of a restless city and render constraints and joys of human existence in its complex habitat. Diverse musical works will reveal all the different facets of urban life, referring to abstract and particular cities, characteristic urban phenomena, etc.
For the tenth year in a row the Music of Changes Festival endeavours to introduce what's best, most valuable and authentic in contemporary art today. It succeeded to transform the sonic environment of the city of Klaipėda, and continues to provoke its audiences to open up for changes and new experiences.
Friday 19 September, 6 pm
"Prayers of a Silly Girl", "Rooms. Stories without End"
The Music of Changes Festival opens with the dance performance in two parts, choreographed by Agnija Šeiko and accompanied by the Klaipėda Chamber Orchestra, which will attempt to communicate with the audience in the language of contemporary dance and music.
Prayers of a Silly Girl renders the existence of a woman in time and space. This drama of inner sensibilities and experiences, which takes place against the background of Giya Kancheli's music, focuses on personal 'self-exorcism' and an all-embracing sense of expectation.
Rooms. Stories without End, in choreographer's words, continues the same theme of expectation, but puts the performers in somewhat different social environment and aesthetic. The music by Leonid Desyatnikov will add another dimension to the emotional and dramatic development of these unending stories.
Tuesday 23 September, 6 pm
"Imaginary Landscape"
"They are among the most dazzling percussionists you might hear this side of Bali." (The Guardian, London)
The Amadinda Percussion Group is one of the most original and outstanding percussion groups in the world today. Right from the start, besides performing significant pieces from the classical percussion repertoire, Amadinda has made it a point to inspire composers to create new works. Included among those who have dedicated new pieces for them, are three of the greatest names of the second half of the 20th century: John Cage, György Ligeti and Steve Reich. The music by the latter two composers will be featured in a programme to be presented to the audience of the Music of Changes Festival in Klaipėda. The appearance by the masters of percussion instruments will surely rivet the audience with powerful expessivity, imaginative, visually and aurally rewarding performance.
Thursday 25 September, 6 pm
"The Gates of Jerusalem"
In composing his cycle The Gates of Jerusalem (1991–5), Bronius Kutavičius drew inspiration from the prophetic visions of The New Jerusalem vividly described in several books of the Bible. The cycle of four works for different combinations of instruments and voices (Eastern Gates for 3 recorders, violin, viola, guitar and 2 pianos, 1992; Northern Gates for percussion and strings, 1991; Southern Gates for woodwind septet, percussion and strings, 1994; and Western Gates for solo voice (cantor), choir, organ and strings, 1995) conjures up a broad panorama of religious rites from different parts of the world and reaches to the deepest cultural layers of ancient civilizations. This monumental cycle earned Kutavičius the Lithuanian National Culture and Arts Prize in 1995.
Conductor Mirga Gražinytė-Tyla has performed Kutavičius's music since her school days as a singer in a choir. Now she has the privilege to perform his orchestral works, conducting the most renowned orchestras of the world. The well-deserved international acclaim seems to have opened boundless possibilities for this young Lithuanian-born conductor, but she feels equally at home in Klaipėda, conducting the Klaipėda Chamber Orchestra and the Aukuras Choir.
Friday 26 September, 6 pm
"Cities and Airplanes"
Modern cities, a labyrinth of tangled streets, snug little houses and hovering high-rise buildings, luxury shops and magnificent temples… Airplanes, mesmerising and frightening by the bliss of speed and height...
The programme "Cities and Airplanes," presented by conductor Vaclovas Augustinas and the Jauna Muzika Choir, will invite to wonder, daydream and glide along. It will demand the utmost precision and virtuosity from its performers. The pieces by Eric Whitacre and Bob Chilcott will evoke powerful images of airborne vehicles and flight.
Tuesday 30 September, 6 pm
"Born to Beat Wild"
Percussionist Pavel Giunter, with his percussion ensemble in tow, will present an effervescent and galvanizing programme "Born to Beat Wild." Having appeared alongside many celebrated musicians, participated in numerous international music festivals, premiered quite a few new pieces by Lithuanian composers written especially for him, this tireless performer celebrates his round anniversary this year. We sincerely invite you to listen to the exhilarating performance of Pavel and his colleagues, inspiring a passion for life and music.
Wednesday 1 October, 7 pm
Audiovisual project "Metroscan"
Sound artist Vytautas V. Jurgutis and video artist Vaclovas Nevčesauskas teamed up to cast their creative visions into a conceptual post-urbanistic soundscape. Metroscan is an abstract fantasy on the theme of a metropolis. The composer admitted to have derived his ideas from the multifarious concept of metro- (from Greek metron – measure), which may take a host of meanings, such as "metropolis, metrics, metronome, movement and transportation."
Both artists share a taste for uncompromising artistic forms and refined aesthetic. According to Jurgutis, currently exploiting the "neo-garde" aesthetic of his own invention, this project is intended "for those who simply relish pure digital sonorities and abstract computer-generated visuals."
Klaipėda Concert Hall inf.
Loreta Narvilaitė