On 22-26 October in Santiago de Compostela, Spain, the 20th International World Music Fair WOMEX (WOrld Music EXpo) took place, where Lithuania was represented by our delegates. "We were more visible and noticeable this year and felt greater attention, we had more action and there were more important meetings at the event", - says one of the representatives of the national music stand of Lithuania, head of the Baltic music record company Dangus and director of the festival Mėnuo Juodaragis, Ugnius Liogė. The Lithuanian national music stand in WOMEX has been organised and coordinated by the Lithuanian Music Information and Publishing Centre and its export project Music Lithuania. It was made possible through the support of the Lithuanian Council for Culture.
Lithuanian representatives have been preparing for the event the whole year. Although it was only the second time when Lithuanian music culture was represented at WOMEX, it was certainly the result of the work of people from different music fields who managed to attract the attention of media and many producers and achieve such results.
Lithuania was represented by various people working in diverse areas of world and folk music: Algirdas Klova, multiinstrumentalist, chief of the folk ensemble Vydraga and chief of the instrumental folk music festival Griežynė, manager of different world music projects; Rūta Skudienė, head of the record label Semplice; Ugnius Liogė, head of the Baltic music record label Dangus and director of the festival Mėnuo Juodaragis; Saulius Petreikis, multiinstrumentalist, head of the concert and record company Saulės muzika; Solveiga Rusytė, head of Lithuanian Jazz Federation, other delegates and managers such as Indrė Jurgelevičiūtė and Robertas Kancius.
Long experience at the music platform MIDEM has helped to capture attention towards the Lithuanian national stand. According to Rimantė Sodeikienė, project manager of the Music Lithuania, if once visited, WOMEX becomes a place, where you definitely wish to come back.
"We prepared a special publication, where we represent our Lithuanian musicians. This year the CD Note Lithuania – Folk/World includes seventeen different pieces of Lithuanian world, folk and neofolk music. One day we even managed to hand out all the CDs and thought that we could have taken more", - says Sodeikienė.
It's easy to explain the demand for publications and CDs by looking at the incredible numbers of the participants of WOMEX, known as one of the main folk and world music forums. This year there were 2400 delegates from 90 different countries. This was a great place, which included 280 national stands created for exchanging contacts. Delegates had the chance to attend 22 conference sessions to find out about the music industries and the current world music situation, and there were 60 music shows of the main WOMEX program to watch and listen.

Great perspectives for Lithuanian musicians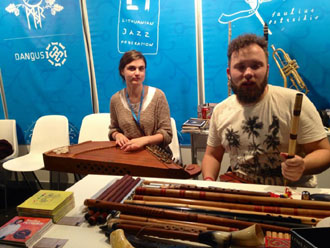 Indrė Jurgelevičiūtė and Saulius Petreikis
Photo by Ugnius Liogė
One of the Lituanian delegates, Saulius Petreikis visited WOMEX for the first time. He states that this event has helped to understand his own place in the world music context. "That was a great discovery for me. This expo really helps to understand who you are among the other world music performers. I also got surprised seeing and hearing some people, who don't really represent world music", - says Petreikis. He also points that in WOMEX he found more than he expected.
"I like different and unexpected combinations of musicians, I searched for strong soloists, and I found some serious connections with Japan. In fact, there were dozen of contacts... Everybody wants to create something together. I brought back about 400 contacts, but I already know that some of them won't be relevant, because they didn't match what I was looking for. World music – that is a very wide definition, everyone understands it in their own way. I even missed some pure world genre there. However, I'd like to point out, that the most important thing for the musicians is not to perform on the main stage, but to exchange the important contacts", - noticed the musician.
Indrė Jurgelevičiūtė, a young singer, member of the music ensembles MaLituanie and Merope is also glad about all the new opportunities. Besides the conference sessions, she gave an interview for the Swiss World music radio, had a conversation with the delegates of Salon International de la Musique Africaine and other important talks on planning the collaboration with the European and USA producers, a meeting with Balázs Weyer (Hungary), some ideas for the next expo, including a special project for the Baltic countries were discussed.
According to Baltic music publisher and the head of a Baltic music festival Ugnius Liogė, this is a serious and important event, and it depends on the participants what kind of contacts they manage to find there. "Producers, organizers and publishers come to WOMEX, and there is nothing better than to hear and see the musicians live. I saw a lot of original ensembles; we are going to invite some of them to our festivals in Lithuania. I am very glad, that we got to know the producers. We affiliated with very interesting Columbian musicians from Belgium, an ensemble called La Chiva Gantiva, we also communicated a lot with Polish artists. We made jokes with Latvians and Estonians, that we compensate the lack of closer communication among the three Baltic countries by meeting at WOMEX."

Seven samurai - to decide who is going to be among the best

As mentioned earlier, the evening program and the show case participants are carefully selected by the musicians from different parts of the world. According to the Music Lithuania representative Rimantė Sodeikienė, it is interesting, that every year participants are chosen by different committee members. "The main organisers of the event are the same, but the committee responsible for the conference and concert programs is changing each year – it is formed from seven different people, who call themselves samurai. They usually are producers and music agents, so they do not have the right to represent their own musicians. And that really reflects the main values of the samurai: strong will and loyalty to their creed", - says R. Sodeikienė.
When asked if Lithuanian artists are going to participate in the competition to be selected for the next year's concert, Sodeikienė claimed that an active participating of Lithuanian world music performers are expected. "Next year the organisers are expecting even more participants in Budapest, Hungary, and there are intentions for some special events for the Baltic project there", - she says. Inquired about the criteria of the concert, Rimantė Sodeikienė smiles: "The main criterion – to get liking from the samurai. But when you listen to the concert, you understand that it is not enough to play well. You have to have something special, interesting and appealing."
Gerūta Griniūtė