At the end of 2014 Lithuanian Music Information and Publishing Centre released an album by George Maciunas titled
Musical Scoring Systems
. Being a part of the Inter Alia series the album was dedicated to the experimental, the 'anti-', the 'beyond' or the 'inter-' forms of creative self-expression; in other words, it was an endeavor that crossbred dissimilar practices, genres and media or simply presented unconventional types of music, those that intentionally took a stance of being consistently 'against.' Evidently, George Maciunas is a pain in the neck when it comes to classifying his music. In his booklet introduction to the album a poet Žilvinas Andriušis described it as "crossing boundaries, being rebellious, educated, desperate, traumatized, sarcastic, (self-)destructive, apocalyptic and infantile."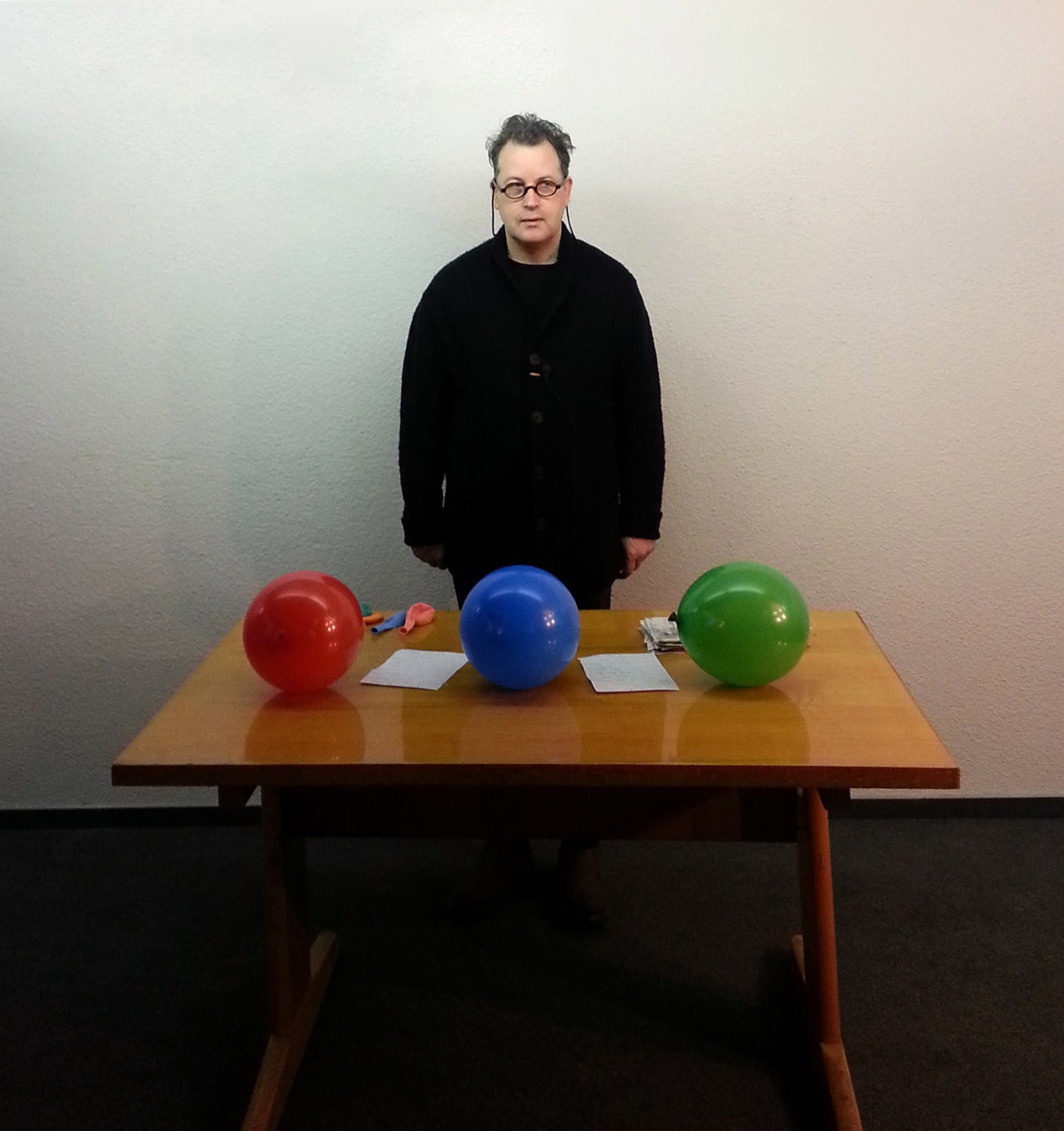 Anton Lukoszevieze performs Solo for Balloons
Anton Lukoszevieze
, a British musician and artist of Lithuanian descent was a key figure in the creation of this album. Together with his
Apartment House ensemble
he recorded music compositions by Maciunas, stressing terms
music
and
composition
, even though each piece contained a great deal of 'do it yourself' practice. Without putting on a 'sour face', and with a kind of religious fervor Apartment House recorded 8 experimental pieces that at times demanded from the artists to be particularly eccentric.
The cellist, Anton Lukoszevieze visited Lithuania in 2014 around Christmas, during the shooting of a video presentation for YouTube. Being a practitioner of Maciunas' music, as well as his unofficial historian, Lukoszevieze confessed in front of the camera (operated by the video artist Džiugas Katinas) that after many years of exploration he still didn't know what fluxus really was. Without any superfluous praise, the cellist plainly introduced the idea behind the album and commented on Maciunas' overall creative language. Moreover, he made a comment about the title Musical Scoring Systems (which in the context of fluxus aesthetic can seem rather paradoxical) and spoke in a fashion intelligible to any curious individual, not only to radical theoreticians. For the YouTube video presentation of aforementioned CD Lukoszevieze performed two works by Maciunas, his Solo for Balloons (1962) and Solo for Rich Man (1962).
The video presentation of George Maciunas' CD release is available for viewing on the Lithuanian Music Information and Publishing Centre's YouTube
channel
.
The release of the album was sponsored by the Lithuanian Council for Culture. The partner of the Lithuanian Music Information and Publishing Centre is the Lithuanian Composers' Union.
LMIPC information
Translated by Vanda Gaidamovič