In late 2014, the Music Information Centre Lithuania released four CDs in an effort to capture some trends – historic and contemporary, "normal" and marginal – in the Lithuanian music culture. As it is usual, the main focus was on outstanding authors and pieces of art music. The 2014 releases oscillate between performative experimental music compositions of Fluxus and retrospectives on ecologic avant-garde, between heterogeneous multiplicities of music for string quartet and a synoptic 'map' of the year's best local music. The releases include compilations and albums of individual authors, CDs of recorded concert performances, reconstructed archival material and special studio recordings. The project was supported by the
Lithuanian Council for Culture
as well as the
Lithuanian Composers' Union
, a partner of the Music Information Centre Lithuania.
The outlier of last year's releases is one of music by Lithuanian-American artist George Maciunas whose unconventionality has permeated almost every aspect of the release, from the rhizomatic artist figure, controversial compositions, eccentric attitudes of the performers, unconventional instruments to perversions in lyrics, experimental design and the CD format that is quite outside the box. The insistent initiator behind George Maciunas' Musical Scoring Systems was British-Lithuanian musician and artist Anton Lukoszevieze, whose ensemble Apartment House recorded eight experimental pieces specially for this release. Follow this link for more information.
The Music Information Centre Lithuania started a CD series in 2002,
Zoom In
, in order to promote and encourage the spread of fresh Lithuanian contemporary classics and art music abroad, but also to provide an almost social service of presenting Lithuanian creative music in local territories where such releasing is far from intense or multiple. The
tenth synoptic Lithuanian contemporary music release
focuses on the most outstanding premieres of 2012-2013, almost all of which have been recognized with Best Music of the Year awards given out by the Lithuanian Composers' Union. The album includes pieces of various genres, unequal 'sizes,' heterogeneous instrumentations and by composers of different generations: from
Justina Repečkaitė
, the young and growing author whose piece for string orchestra,
Chartres,
draws on medieval images, geometric and mathematical concepts; to the veritable driving force of the Lithuanian music culture,
Bronius Kutavičius
, and his maximum-power chamber solo for violin
Andata e ritorno II
.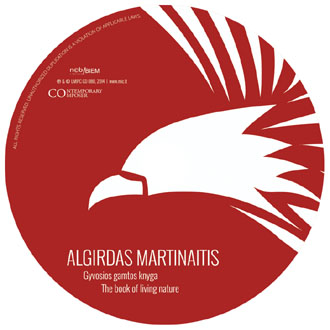 Algirdas Martinaitis is, in his nature, a very post-romantic and at the same time postmodern creator, the course he sticks to despite some recent digressions. His CD, The Book of Living Nature, an entry in the Contemporary Composer series, mostly focuses on the peaks of Martinaitis-esque 'nature cycle' of the 1970s and 1980s; the one towering above all others is, arguably, his chamber cantata-concerto Cantus ad futurum. The piece has come to be accepted as the manifesto of the entire generation, an ultimate expression of its 'e' attitudes: existential, (a)esthetical, ethical, ecological, emotional, etc. On the other hand, Žilvinas Andriušis, who reviewed the CD, thinks that Algirdas Martinaitis occupies a position 'in between' – he is intangible, unexplainable, subconscious (as true artists are), therefore one would be ill advised to 'pigeonhole' him into any tradition, be it the Lithuanian folk-ritualistic or Catholic sacral music; nor should one look for definitions for him, along the lines of 'professional classic composer of contemporaneity' or 'impulsively poetic and painfully nostalgic neo-romanticist.' Žilvinas Andriušis would rather have us listen to the CD and enter the reflexive field of Andrei Tarkovsky's cinematic oeuvre, especially his 1980 film Stalker, as, he believes, there is something mutatedly Tarkovskian about the music of Algirdas Martinaitis, as if it were soundtracks for unreleased or unproduced films of the celebrated Russian filmmaker.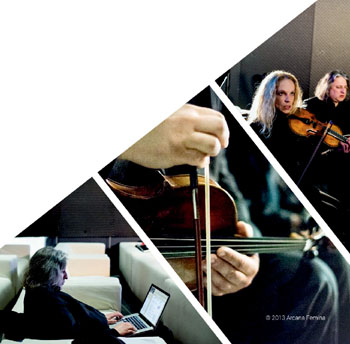 The double CD
Chordos. Music for String Quartet
, of the series
Contemporary Composition
, came out in the very end of 2014, spotlighting the outstanding Lithuanian performers who consciously include local music into the public and lively performance culture and take a critical look at some of the most complex scores of contemporary composing. The collection contains 12 pieces by composers of different generations, styles, aesthetics and worldviews and is a retrospective of Lithuanian music for string quartet. As Beata Baublinskienė writes in the booklet accompanying the CD: "We can hear
Chordos
playing on a painful note (
Der tod und das Mädchen
by
Algirdas Martinaitis
), as the last romanticists of the 20th century, and immediately inviting us to dance, as cheerful entertainers at a family feast
(David's Song
by
Anatolijus Šenderovas
), as serious fosterers of the classical quartet tradition in the 21st century (
Sans pause
by
Rytis Mažulis
,
Drappegio
by
Onutė Narbutaitė
,
Anno cum tettigonia
by
Bronius Kutavičius
), and as participants of a jazz gig (
Saxchord
by
Arvydas Malcys
). They appear as the pioneers of subtle consonances and structures (
b(ell tree)
by
Vykintas Baltakas
,
Light on Light
by
Ramūnas Motiekaitis
), the heralds of new Expressionism (
Oriental Elegy
by
Raminta Šerkšnytė
,
Expression
by
Vytautas Germanavičius
), and finally, the participants of an interdisciplinary performance (
Heap of Language
by
Arturas Bumšteinas
)."
MICL information
Translated by Justinas Šuliokas