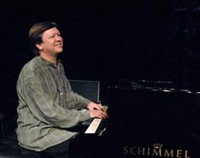 Photo: Vytautas Suslavičius
One of Lithuania's most distinguished jazz personalities, Dainius Pulauskas is a pianist, keyboard player, renowned group leader and original composer. Jazz critic Jan Patterson, in his article portal All About Jazz (October 10, 2011) , this group described as "The Dainius Pulauskas Group is a unique sextet whose mixture of melody and muscle, lyricism and the unexpected, places it firmly at the forefront of progressive European jazz-fusion." and the group leader is characterized as "pianist/keyboardist Pulauskas is without a doubt, one of the most interesting composers at the fusion end of European jazz, and has been at the helm of this sextet for seventeen years". "Pulauskas together with his colleagues makes the best ever possible fusion. Diversity of their musical expression is overwhelming. It is head over heels of audacious swings and rhythms, and... the most real, unadorned jazz. (...) It's been long time since I heard such talented jazz masters," - writes Swedish reviewer Bo Levender.
D.Pulauskas is created around 1000 arrangements of various orchestras and ensembles: symphony orchestra, brass orchestra, big band, chamber orchestra, string quartet, jazz and pop groups.
Jūratė Kučinskaitė