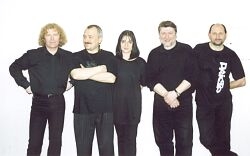 Vilnius Jazz Quartet & Neda Malūnavičiūtė
The Vilnius Jazz Quartet is one of the foremost and long-living representatives of the Lithuanian jazz. The quartet continues and expands the principles of the so-called Vilnius jazz school, once laid by the legendary Trio GTCh (Vyacheslav Ganelin - Vladimir Tarasov - Vladimir Chekasin). The most characteristic of those are large-scale compositions, often of a suite form, with a lot of stylistic interplay - combining the unusually twisted jazz standards with jazz-rock and world music, interspersing the original repertoire with quotations of classical as well as pop music. Later the large-scale forms gave way to more concise rondo-suites, which are developed according to the same principles. Open-minded to various experiments, the Vilnius Jazz Quartet collaborates with other musicians including the singer Neda Malūnavičiūtė and the folk music band Sutaras.

The Vilnius Jazz Quartet was founded in 1989, when the keyboard player Oleg Molokoyedov joined the trio of Vytautas Labutis; all these musicians were members of different quartets of Vladimir Chekasin, the originator of this trend. The quartet earned an international recognition touring Latvia, Russia, Germany, Bulgaria, Great Britain, France, and Finland. All members of the Vilnius Jazz Quartet represent the highest standard in Lithuanian jazz, extensively performing in other groups as well.
© Jūratė Kučinskaitė
Group members:
Vytautas Labutis - reeds, ky
Oleg Molokoyedov - ky, tp
Leonid Shinkarenko - b
Eugenijus Kanevičius - b (since 2001)
Gediminas Laurinavičius - dr, perc